---

Here is a comprehensive list of stuff we sold. Most items are out of stock.
Contact us if you are looking for something in particular and maybe we can help.

Preview 7" SPY04
"Sawdust Caesars" b/w "I Spy Something Blue"
Limited to 300. Signed & numbered by "Spy" himself!
$4 ppd
ONLY A FEW LEFT!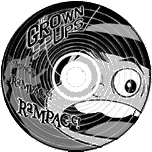 RAMPAGE! CD SPY03
16 song CD re-release of the 10" and cassette + unreleased "Texas HoldUp".
Includes poster/lyric booklet.
$10 ppd SOLD OUT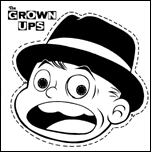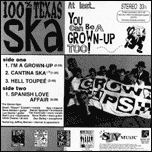 I'm a Grown-Up 10" SPY02
4 song, 10" white vinyl. Includes poster, sticker and lyric sheet.
$10.00
SOLD OUT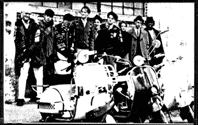 The Grown-Ups cassette SPY01
Debut 11 song cassette tape.
Includes sticker and 32 page booklet
$5.00
SOLD OUT




Patches (2 styles) NP1 & NP2
Quality, fully embroidered patches.
NP1 Cut-out Spy head
NP2 Grown-Ups logo
$3.00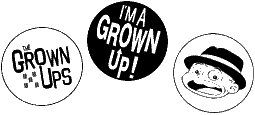 Buttons (3 styles) GB1-3
1" lapel pins.
GB1 Grown-Ups Logo
GB2 "I'm a Grown-Up!"
GB3 Spy head
$2.00 (set of three)
(We also have "error" buttons that were mistakingly printed in various colors. Specify if you want a regular b&w or a screwed up color!))




Grown-Ups Sticker Set SS04
Set of 4 different vinyl stickers.
(includes: Cut-out Spy head; 100% Texas Ska; old-style Spy; and Grown-Ups logo)
$2.00 ONLY "SPY HEAD" AVAILABLE $1. Very few left!




Grown-Ups Magnet Set SM01
Set of 5 different rubber magnets.
Various shapes and sizes. Amaze your friends.
$2.00
SOLD OUT

All T-shirts are the good & thick, 50/50 kind with long-lasting sports inks! L and XL only.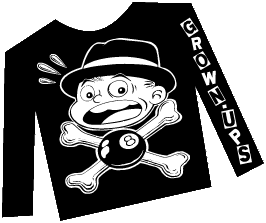 Black Long sleeve Grown-Ups Tee GUPS2
Long sleeve black T-shirt.
8-ball Spy up front and "The GROWN-UPS" down left sleeve.
$15.00
SOLD OUT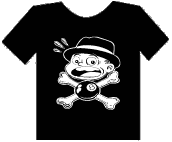 Black Grown-Ups Tee GUPS3
Short sleeve black T-shirt.
Same as above without sleeve design.
$9.00
SOLD OUT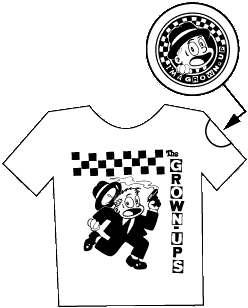 White Grown-Ups Tee GUPS1
Short sleeve white Tshirt.
Running Spy with smoking gun on front and round logo on sleeve declaring, "I'm a Grown-up!"
$9.00
$9.00
SOLD OUT


Unless item is listed as "ppd", please add $1.00 to cover shipping.
INCLUDE AN EMAIL ADDRESS AND A OR PHONE NUMBER!
Please: NO CASH! Note: New Mailing Address!!
Make check or money order out to Dave Wallin and send to:

106 Bedford Ave #4R
Brooklyn, NY 11211